Christine Nguyen Collection
Spend the night with the luscious, Christine Nguyen and her friends, as they star in Three of Christine's best movies ever. Now presented in Wide Screen, you'll delight in VOODOO DOLLZ, where Christine is banished by the wicked, Michelle Bauer, to an All-Girl School devoted to demonic worship. The school, operated by Monique Parent, has a bounty of beautiful students, including Nicole Sheridan, Charlie Laine and Beverly Lynne. Pay close attention, you might learn something! SUPER NINJA DOLL puts Christine in the role she was born to play, that of an Anime Super Hero. Loaded with special effects and far-out costumed villains, this is one of her very best! Lastly, Christine goes into orbit in BIKINI GIRLS FROM THE LOST PLANET! She and the exotic Space Fox, Syren, head for Earth at the command of their Queen, the buxom, Rebecca Love. There they hope to shrink some men down to the size of dolls and transport them back to their sex-starved planet. Includes Blooper and Out-Take Reels.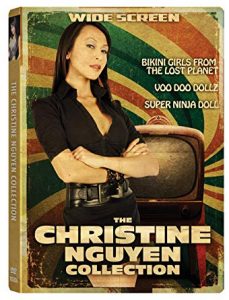 HBO Hires "Intimacy Coordinators"
HBO
has announced that all of its shows featuring sexually intimate scenes henceforth will have a monitor known as an "intimacy coordinator" on set. The intimacy coordinator will serve as a mediator among actors, directors, producers and crew.
HBO's The Deuce, 
set in the sex trade industry in New York's Times Square during the 1970s, already has the first intimacy coordinator working, and other shows are being staffed.