We are proud and happy to present an exclusive interview with a legend of softcore genre: the beautiful, amazing, strong and talented Belinda Gavin. One of the most recognizable faces of this genre, Belinda leaved a remarkable sign on our memories, and now we she is on Sreviews to talk about the pastm the present and the future of her career!

Hi, Miss Gavin. Do you mind introducing yourself to our readers and users?
Hi Softcore Review, My name is Belinda Gavin aka Kylie Wyote and I am a soft core erotic film actress. I have about 37 movies and 7 tv show on IMDB and love shooting every one of them.
I have worked with some of the worlds top talent and producers in the business. I also worked production for many years including a stint with Wicked Pictures as production manager and assistant director.
Can you tell us how you started your career, and how you was involved in softcore movies? 
I started my acting career in Los Angeles after studying at Lee Strasberg to learn my craft. In 2000 I stared in a French film with the director of the Emanuele series. I love shooting so much being the star actress. For me being nude and the sex scenes came quiet natural for me.
Two years ago, Cinemax announced the cancellation of movies and softcore tv shows. Which is your reaction to this news? Do you think there's still a future for the softcore genre? 
The cancellation of Cinemax is very sad. I think that with the internet soft core does not have the audience it once had.
With xxx porn companies shooting soft core the need for the genre faded away. But I believe there is still a need for erotica. Sex sells and not everyone wants to see the whole box and dice, they want to be teased a little. Women especially I feel like to be titillated.
Two of your last softcore movies are Bikini Chain Gang and Bikini Round-Up for Retromedia and directed by Fred Olen Ray. In the last one, you played "Calamity Kate", and both movies you worked with Beverly Lynne. How was working with her? Can you share some funny details about work with her?   
Yes Bikini Round Up and Bikini Chain Gang were amazing movies to work on. Actually there is a very funny story behind it all. Bikini Airways was the first movie with Fred and then he cast me and helped me get my SAG card which was huge for an actress in LA. I suggested we make a Bikini Western. I had horses and could ride and was happy to wear only chaps and a g-string LOL. Long story short he wrote the movie sent it to me and said lets do it! And we did. The hardest thing was to ride the horse, shoot the guns and say my lines! It was hectic! Working with Beverly Lynne was amazing! She was such a true professional. Beautiful, funny, insightful, positive and wise. In Bikini Chain Gang we were tied together for days LOL we had so much fun, always.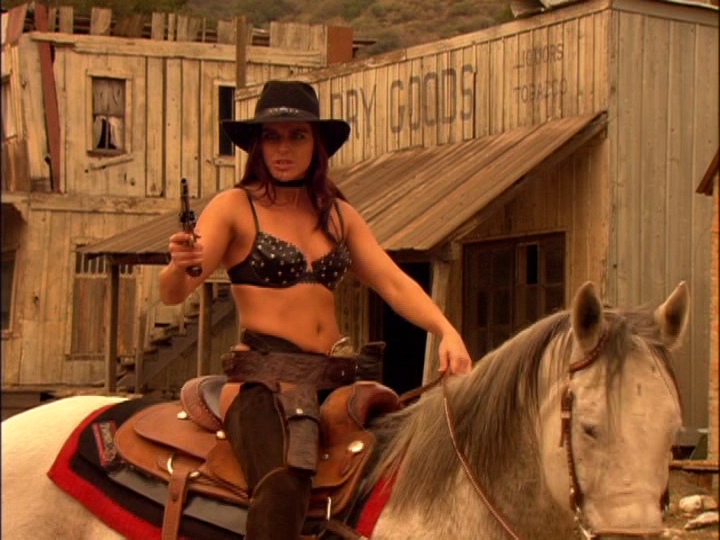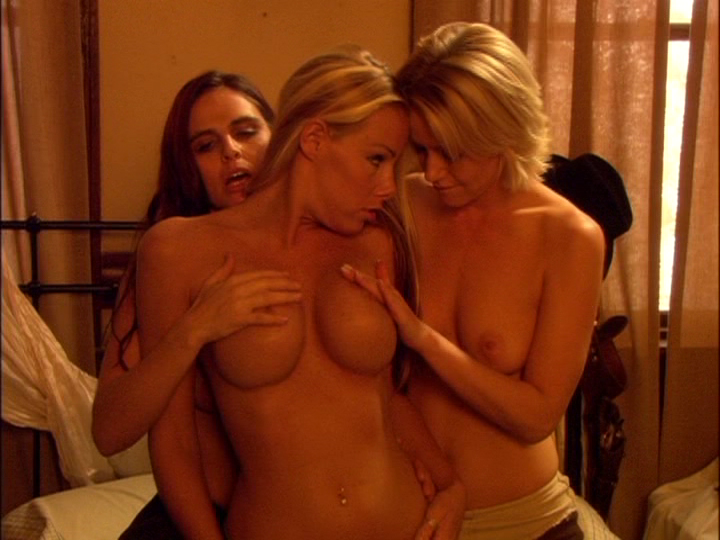 Have you kept in touch with your old American colleagues?
I have many friends and even my brother still lives in LA so yes i am in contact with many of my USA friends. They are like family to me. Amy Lindsay and I have been best friends since Final Exam. God, we had fun in Hawaii.
In recent years, casting of softcore movies has seen the involvement of many porn actors and porn actresses.
What was it like working with them?
Do you think their involvement was positive or negative for this type of movies?
This is a great question. And I have already mentioned it. I love working with professionals, no matter what they do. Stars like Nicole Sheridan, Evan Stone, Ben Banks, Randy Spears and many more are all very talented performers and i feel privileged to work with them.  So I think that it was positive in many ways, meaning it brought stars and recognition to the genre. Then for me the only weird side was it was difficult to explain to people why i was not a porn star (LOL) cause i had movies with porn stars so i must do full porn too. I just became confusing
.
What have you learned all these years as an actress?
I learnt so much as an actress. I love it. Expressing myself in front of others is very vulnerable. I love acting and will continue to act until i die.
Your last softcore movie was "Lustful Cravings", released in 2009.

Why do you have choose to not make anymore this genre of movies?
I wanted to move a way from the genre to allow more mainstream work come through. I did American Gladiators that was G rated (LOL) it was a fantastic experience too. When I moved back to Australia, I realized that there was no where near the amount of work here. So I moved into Events and it has been an amazing journey too. I have been very lucky and I am very grateful for my amazing life.
It's complicated filming a sex scenes?
No and yes. I love it cause I understand fully what the director wants and I know how to deliver a hot passionate real feel sex scene.
A positive and a negative memory about your career at Hollywwod?
Positive – Meeting so many amazing people – celebrities and other creative people in the industry.

Negative – It opened my eyes to the gun violence in the USA. I arrived from Australia in the Rodney King riots and just recently we had riots in LA again. It is sad.
Can you tell our users about your life today? What are you doing? Next projects? You recently started a profile on onlypages. Why this choice?
My life today is still very busy and invloves SEX as I run a show called Sexpo Australia, it is the biggest lifestyle
Home – World Famous SEXPO
I continue to act and remain creative as well. I am a personal trainer and love seeing peoples lives change through exercise. I hope to work on some bigger movies in my spare time this year. I saw that there were so many girls making money and I thought "why NOT?" I was being called a porn star anyway so why not just shoot some xxx content for those who are willing to pay for it. It has been awesome and my fans get to see my like they have never seen me before! https://onlyfans/kyliewyote

I use my aka Kylie Wyote as Belinda Gavin has a very corporate life now so only Kylie gets to be naughty on onlhy fans 🙂
We are bringing Sexpo to the USA, London and Germany. Covid 19 put a spanner in the works for this year but we will be back and badder than ever once we open up and can have large events again. I would also love to shoot more movies. Anyone casting out there need a sex scene pro?