TJ Cummings updates
According to MikeSouth, a blog about adult industry, the former porn actor TJ Cummings, notable to been starring also in many softcore movies as Sexy Wives Sinsations starring Christine Nguyen and in some Retromedia productions as Bikini Time Machine with Joslyn James and Kylee Nash, is lying about his actual health conditions.
If you remember well, Cummings was tested positive to HIV in december 2013, and he leaved the porn industry and mainstream movies after the news.
According to MikeSouth, "he changed his twitter name to NickDiRuscio and started hitting up girls online, pretending to be a fitness model, failing to mention to the girls he's hitting on, that he's HIV positive" and recently he said was cured from HIV. And this last thing is not true.
We think reporting this news is important to protect people from reckless, dangerous and unacceptable behavior.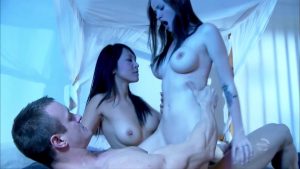 The Last Roommate 
According to director Dustin Ferguson, the filming of The Last Roommate, the erotic thriller written by Jamie Grefe, is starting in February. No new casting news until now.
Jacy Andrews updates
We have new updates about the former softcore and porn actress Jacy Andrews. After a recovering in hospital and a surgery, she is back home. She is fighting a battle against cancer, according to a reliable source in the softcore industry we had hear some days ago.  We have seen recent pics of Jacy but we decided to not publish them for respect.