Unlike previous episodes, this time we will talk about an (almost) unknown softcore star of the 70s,  for ten years until the beginning of the 80s, had a busy career in low-budget erotic films, with small forays into porn too.
The name of this actress is Angela Carnon, also known as Angela Fields.
Black hair, girl-next-door looks, two natural breasts and a good acting talent, Angela Carnon made her debut in 1968 in the erotic thriller Watch the Birdie… Die!, directed by Don Doyle.
It's the end of the '60s, and in American cinema a vast subgenre of very low budget films is growing, mainly shot in a few days, most of which have an erotic theme, and starring unknown actors, partly also from hardcore genre.
Angela Carnon was a young woman trying to find her space in this genre of movies, and in 1970 she appeared in her second featuree, The Politicians.
Directed by Bob Augustus, it is a film classified as Rated, for adults, and also stars Uschi Digart, a busty Swedish actress who would become famous thanks to Russ Meyer.
The turning point for the young Angela came in 1972, when she took part in a hardcore film, Sex in The Comics, an erotic parody of comic strips, where she played a journalist who had to interview a cartoonist about his most famous creation, Pinky The Cat .
However, the cartoonist begins to tell the story of the most famous comic strips in USA, and the movie becomes a collage of episodes with erotic versions of Blondie, Betty Boop and other characters having sex. At the end of each episode, the journalist played by Angela gets hotter and hotter and undresses, remaining completely naked and aroused in front of the cartoonist, with whom she wants to have sex.
Angela Carnon performs in a very exciting short masturbation sequence, demonstrating all her sex appeal and erotic charge. In the same year, she was the main actress of Drop Out Wife, an erotic film where she played the role of a young housewife involved in the "swinging" scene.
The film contains many sex scenes, including an orgy (obviously simulated), while the following year we see her briefly in The Dirty Mind of Young Sally, starring the future pornstar Colleen Brennan, where Angela plays a small role, obviously during a sex scene.
In the following years, she is the main actress of a movie that has become a small cult, Poor Cecily, where she plays a poor little rich girl is sold into slavery to pay for her dead father's gambling debts in Renaissance France.
A little jewel of the B-Movie genre is also Video Vixens (1974). Directed by Henru Pachard, it tells of a television executive, Clifford Bradley, who decides to shock the public by broadcasting an extremely explicit movie show.
In this movie, Angela plays the role of Ms. Gordon, the sexy and charming wife of another television executive. Towards the end of the film, Ms. Gordon and her husband have sex in a short scene, very funny but quite explicit for the time.
Also in 1974, Angela takes part in A climax of Blue Power, about a policeman who sexually and physically abuses prostitutes, of which there is also a hardcore version. In the sex scene that involves her, Angela has a stunt double.
She doesn't have a stunt double, however, in a short 10-minute porn film from the 1970s, without sound, entitled Beddy-Bye Girl. Here, Angela has sex (including oral) with a man. This is the only foray, together with Sex in the Comics, into a film for adults for this actress, but it is also confirmation that in those years the boundary between B-Movie and hardcore was very blurred.
After marrying fellow actor Norman Field, Angela took his surname, but her career on the big screen began to slow down compared to previous years.
She appears in the thriller Wheeler (1975), also known as Psycho from Texas, where a young Linnea Quigley also appears. Angela was then again in the cast of the softcore comedy Fabulous Funny (1975) and in Everiday (1976), another erotic movie.
One of her latest sexy roles is in Black Silk Stockings, an adult flick where she plays a sort of narrator of the events narrated, and in which she strips naked at least once.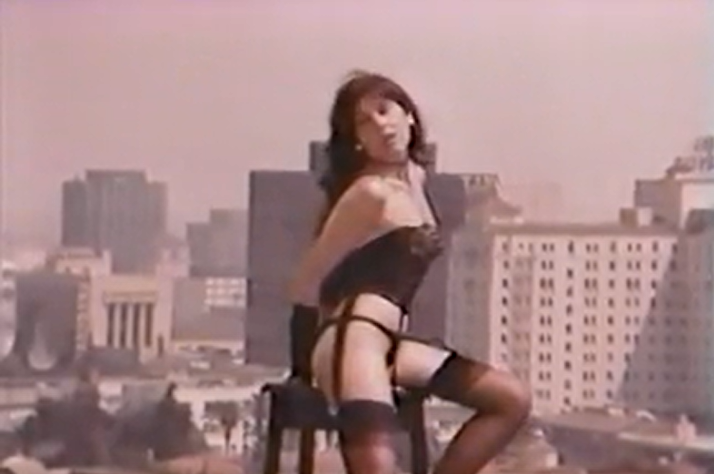 Her last appearance was in 1981, in the comedy Hollywood High Part 2, where she got the role of Ms. Huxley, a teacher who at the end of the film has sex with three of her students, even though there is no nude or sex scene ( unfortunately, we add) with Angela involved. So much so that some believe parts of this film were cut or censored before teh release.
After this movie, Angela Carnon decided to retire and no more info about her in the last years, apart the fact the husband Norman Field died in 1996.
We hope she got a great and happy life in the last 40 years. We have the memories of a young, sexy and seducing actress during the '70s, maybe one of the most recognizable for the fans of this genre.