In the softcore movie genre, especially in recent years and thanks to Retromedia, some couples of actors have become the symbol of softcore. Some of these couples were able to express a strong erotic charge when they acted together, demonstrating how simulated scenes could seem extremely real.
Christine Nguyen and Frankie Cullen are one of these couples. Christine: one of the best softcore stars and extremely skilled in sex scenes, so much that she became the undisputed queen. Frankie: her perfect half. Muscular, attractive, very good during sex scenes and a funny actor. They are so great together, that I have thinked many times they was involved in a loving relationship…
The Twilight Vamps sex scene is, along with the scenes seen in Bikini Frankenstein and Bikini Jones, one of the best with both.
In this movie, for a unique and particular element: Christine is a bad girl. A real bad girl.
And the bad girls are sexy. Really sexy.
When Christine arrive on the scene, she got a sexy dress with transparency's. We see her perfect breast under the dress, and her presence on the screen is strongly erotic. From her face, we understand she want to have sex with the character played by Frankie. And no one can stop her!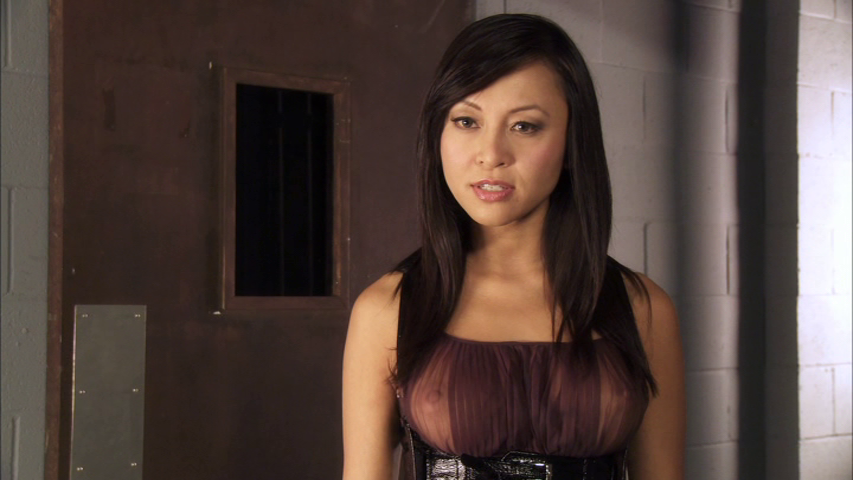 After a brief dialogue with Frankie, Christine start to kiss him. Before on his chest, and then on mouth.
Christine start to undress Frankie (and here we see how much is excited Frankie under his pants), and at the same time kiss his chest, licking the nipples.
At this stage, oral sex begins. Christine first strips out of her sexy dress and begins to "massage" Frankie, who responds with fingering on her butt.
Suddenly, Frankie takes Christine and, kissing her, carries her to the bed and they assume a new sexual position: the splitter. Here, we see the passion on the Christine's face. During this sequence, Christine uses dirty terms, and so does Frankie Cullen. Christine uses a classic phrase about Frankie's hammer, and he responds with a similar joke. Christine laughs as she moans with passion.
This element give to the scene, already with an high percentual of eroticism, the full promotion.
Frankie starts riding Christine. In this sequence, she asks if he is angry about the death of Roger, a character played by Tony Marino, killed by her. Frankie replies "I hate Roger! Fuck Roger!", And continues to have wild sex. In this scene, we also see Christine's breast perfection.
Frankie takes Christine from behind, grabbing her by the hair, and the sex continues in a great way. When the guy touch her breast, a little smile on Christine's face. Full satisfaction for her!!
Now, begins the final phase of this amazing scene. Frankie continues to have sex with Christine, in a superlative position on the bed. The girl seems at the same time exhausted but full satisfied of the Frankie performance. They not stop and continue to fuck!
In the missionary position, now Frankie is hammering Christine without mercy. Initially, she grabs the bed sheets. The strenght of Frankie is too much for her, but she remember to want wild sex and so she resist.
This happen for almost 2 minutes and then, finally, both reach the full orgasm. Christine breaths for some seconds because she is obviously exhausted, and then she and Frankie kissing each others.
I have always thinked 2010 was the golden year for Christine and Retromedia. She was starring in four titles that year, and absolutely four of the best softcore movies from Retromedia. And this scene was amazing!