Long black hair, two beautiful magnetic eyes, Danielle Petty, also known as Kennedy Johnston, was one of the best actresses in the softcore genre.
This girl, born in Bellevue (Washington), has left an indelible imprint in many softcore movies, being appreciated for the skill as an  actress, and for her unmistakable beauty and sensuality.
Appeared for the first time in Surf, Sand and Sex in 1994, Kennedy Johnston had a very long career in the softcore genre,  ended in 2011. The particularity of this actress was not only an excellent acting ability, but also a presence on the screen able to conquer immediately,  thanks to a natural beauty without sign of plastic surgery. A beauty and sensuality immediately visible in the love scenes shot by the actress, capable of giving an incredible energy in the sex scenes, with a realism became her distinctive mark.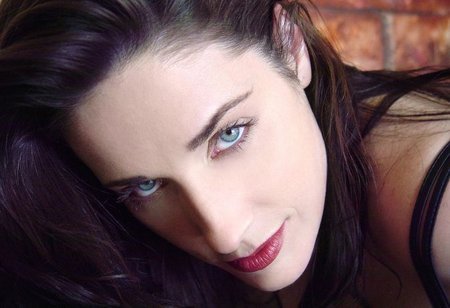 Erotic Confessions, Sexy Urban Legends, Hotel Erotica, Black Tie Nights, Hotel Erotica Cabo, Sin City Diaries, Life on Top. In these tv shows, which cover a very long period of time, Kennedy Johnston was able to conquer the public and the fans, creating a hard core group of fans who still remember her today.
Also important is his involvement in many movies, among which The Secret Cellar, Countess Dracula's Orgy of Blood and especially the Retromedia productions, such as the unforgettables Teenage Cavegirl (alongside Nicole Sheridan, Jezebelle Bond, Voodoo and Evan Stone) and Genie in a String Bikini with the same cast and Beverly Lynne.
Unfortunately, Danielle Petty has never shown to fully appreciate her career in this kind of productions. Frustrated by the lack of major roles in mainstream productions, on the old imdb message board the actress said she wasn't happy to have participated in these movies, also showing an antipathy towards some co-stars, among them the pornstar actor Voodoo ("He was so stupid that he couldn't memorize a single dialogue", the actress said) .
After leaving the softcore genre, Danielle Petty/Kennedy Johnston had a discontinuous career. A role of a few seconds in House M.D.,  a TV movie titled Party Like the Rich and Famous and, in 2013, a family comedy, Chihuahua Too !.
Since 2013, a silence of five long years, and the only signal was the start of a crowdfunding to resume his studies at the college. In 2018, Danielle Petty returned to acting in a B-Movie, Zombie TV. Apparently, according to his facebook page, she is no more a full time actress.